This page contains quite a few, but not all of Bruce's Stratocasters. He builds them out to fit his own specs.
GOLDIROCKS  – Fender Stratocaster – 2016
Created Fall 2016   – Essentially the neck from my 2016 MIM and bought a new American 50's body for it. It was going to be a silver pickguard but ended up with a white pickguard and black pickups.
Pickups: Quarter Pounder/Power Gold Lace Sensor/Vintage 2.2
Wiring:  Volume for bridge/neck 300K, 250 Linear volume for middle pickup (middle), No Load pot for all.
Other: Custom Plate, unusually black white pickup/pickguard color scheme, Locking tuners
Color: Shoreline Gold (50's body)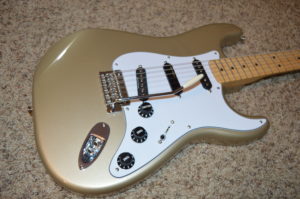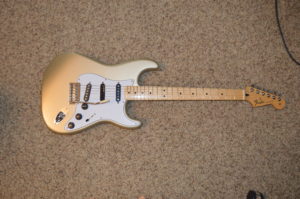 Fender USA Standard Strat Channel-Bound – 2016
Smoke and Mirrors
Aug 2016 – I was a replacement/upgrade to Bruce's stock 2009 white USA standard.
Pickups: Fat 60's
Wiring: Stock (with no load pot for neck/middle)
Other: Channel-Bound neck
Color: Olympic White
Retro Jack – 2010 Fender Standard
(this has been updated, will update soon)
(original)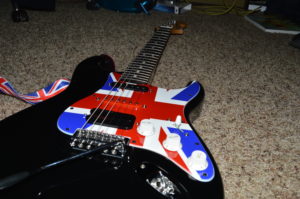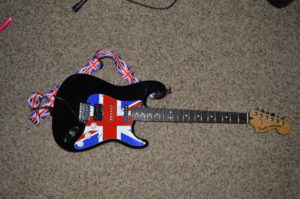 This guitar is very heavily modified!
Pickups: Bridge  (Red/Silver Lace Dually), Red FS1 pickup – Area 58
Wiring: Push Pull Pop on the 2nd knob – Volume (500K), Volume (250K) dedicated to middle pickup, Tone (No load)
1=neck, 2 bridge silver, bridge red (push pull), 3 Middle pickup, 4 Neck  and Bridge Silver, 5 Bridge Red
Other: Locking Tuners (Fender) and strap locks
Color: Black
Banana Baby – 1997 Cal Strat
This is one incredible Stat. It started it's life as a California Series made in the 90's. Bruce bought it used and it had the follow changes: The Neck was sanded down in the back and oiled so it has a very natural wood feel and jumbo frets had been added. All the mods are done by Bruce.
Pickups: lil Screamin Demon (Seymour Duncan) – Bridge      Duckbucker – Neck     Middle – Not sure
Wiring: Switch: 5 Position  –  Volume, TBX middle Neck Tone, Tone Middle (no tone selector for bridge, straight through)
Looks: The "Original" pickguard was white, I changed it to a brass marble, then finally to a brass pick guard that I use now. I updated many parts to be gold. The knobs are vintage. Apparently the original guitars were often an HSS setup, it was a SSS setup when I bought it so this is a rare bird indeed.
Color: Vintage Yellow
MINT JULIP- 2003 Mexi (souped up)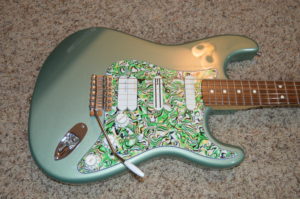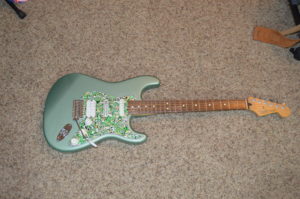 This guitar has fast frets (the thin shallow ones)
It's been through MANY changes until finally settling on this current revision
Wiring:    Neck: White Lace Sensor Pickup,    Middle – Tone Zone (Dimarzio),   Bridge: Dualie Blue/Gold Lace Sensor (the little switch splits this)
(The original design used a black colored dual lace gold sensor)
This was a pickup that was originally used for the Early Jeff Beck model, it came right from a Jeff Beck model guitar.
Master Volume, volume for bridge and middle also push pull for middle pickup, tone NO LOAD for bridge pickup.
Other: Locking tuners (of course).
Color: Metallic Sage Green
 Silver Star – 2002 – Special American Hot Rod
This guitar is stock. It had Seymour Duncan Pearly gates right from the factory.
Pickups: Seymour Ducan Pearly Gates
Wiring: Completely stock but it's a cool 5 position that blends the pickups and splits them in between.
Other: Locking Tuners
Color: Silver Chrome
Blues Bonez (aka Turquoise Blue) – 2001 American Standard
Bruce bought this used. The original pick guard was white, and knobs were white.
Pickups: Neck Pickup: HS3,  Middle Pickup: Blue Lace Sensor, Bridge Pickup: FRED
Wiring: Master Volume, Push Pull Tone – splits neck pickup, Push Pull Tone – Splits FRED
Color: Rare! Aqua Marine Metallic
Other: Locking Tuners
Note: Depends on the lighting, the color is between the two of these shots.
Satin Doll – 2004 Fender Standard
This is a old picture of this guitar.
Pickups: Bridge: Hot Gold Lace Sensor Dually, Middle: Silver Lace Sensor, Neck: Lil 59 Jr
Wiring: Volume (all), Tone 1 (Neck Pickup Only, no load), Tone 2 (Bridge Pickup Only)
Other: Frets: Dressed completely & Locking Tuners
Color: Candy Apple Red Satin Finish
This guitar sounds and plays great, I used this one a LOT of the boat.
(from the Fender Website)
Modern C-shaped neck
Choice of rosewood or maple fretboard
9.5″ radius
21 vintage-style frets
3 standard single-coil pickups
2 volumes (for neck and mid pickups)
5-position pickup selector
Chrome hardware
3-ply pickguard
25.5″ scale
Note: Neck is fatter on this guitar.
Moody Blues – 12 String Stratocaster – 2004

Color: Lake Placid Blue
Fender Special Issue 12 string electric Lake Placid Blue
Pickups: Red Lace, True Velvet, Blue Velvet (Neck)
Bruce left it wired stock. (The black pickup isn't there anymore, it's the same color as the bridge pickup)